The Next Generation of Rolladium
An interview with general manager Tony Anselmi gives you an inside look at exactly what has been going on these past few months we were closed.
Q. First, can you please give us an overview of what you did here at the Rolladium?

   

A. We removed the rink frontage on M59 and built a new area – 5,000 square feet of space. Visit our 2016 Renovation Gallery to see more of the construction process.
Q. What inspired you to embark upon a project of this magnitude?
A. Our facility has not undergone any drastic changes since the 1970s. We felt a renovation was well overdue to give our customers a more updated, modern, and fun facility.
Q.Tell us about this ceiling—it's beautiful. Are these the original beams? Is this the original dome?
A. The entire ceiling has been restored to the original that was hand built on site during the late 1940s. This is how the rink looked when it first opened.
Q. Who made it and how was it constructed? Please tell us the story.
A. My great grandfather had a vision to build a rink where his children could skate and have fun. He enlisted the help of numerous friends and relatives to embark upon his dream. The rink was constructed mostly by hand in the late 1940's with the use of wood and steel.
Q. Could you describe the rink's floor?
A. The floor is hand-laid maple wood in a rotunda design, meaning the floorboards are placed in a way that naturally follows the curve of the corners.
Q. How did you protect your premiere skating floor during the renovation?
A. We purchased 20,000 square feet of heavy duty visqueen plastic that was laid over the entire skating area. After that, we placed 540 sheets of 4'x8' 5ply ¾" plywood sheeting on top of the visqueen plastic.
Q. Any other updates in the rink portion of the renovation–lighting, sound system?
A. We built a new DJ booth, and installed 70 new light fixtures (using our existing LED replacement tubes). Also, we have all new floor and bench carpet and some new wall carpet, in addition to new sconce lighting.
Q. How large is the renovation and the addition?
A. The renovation is 26,000 square feet and the addition is 5,000 square feet, totaling 31,000 square feet and includes an all new fire suppression system.
Q. Tell us about the addition?
A. Besides the new ropes course, we have a new games arcade and winnings redemption counter. The entire addition is bright and airy, with a wall of windows that allows for loads of natural lighting.
Q. For those who don't know, what is a ropes course?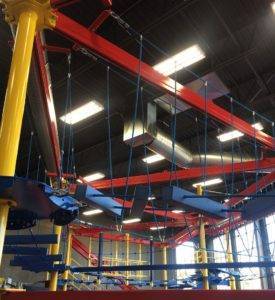 A. A high overhead obstacle course which allows you to freely move from obstacle to obstacle while harnessed in. This is a great activity for people looking to achieve personal development.
Q. It sounds like fun, but how did you decide this was the right activity for your customers?
A. We wanted something new and exciting that no other roller rink has, and thought that this was a great addition for families and kids of all ages.
Q. Any age/size limits?
A. You must be at least 48' tall to go through the course alone, or 42″ with a parent.  And you cannot exceed 300lbs.
Q. Do you expect parents to join their kids and try out the sky-rail?
A. Parents must accompany their children if the child is between 42' and 48'—although we encourage all parents to participate in the fun.
Q. What about games?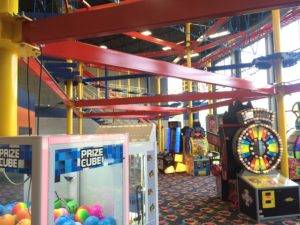 A. We have about 20 all new games, ranging from redemption and coin-operated games to multi-player games within the new addition.
Q. Party rooms?
A. We have two private, enclosed party rooms that have a retractable wall allowing for one large private room. We also have one semi private party room. Each party room has a maximum capacity of 16 party guests at a time.
Q. When will you re-open?
A. Our Grand Re-Opening is Saturday, November 5. We are looking forward to seeing everyone. We have two sessions. From noon to 4:30 and from 7:00 pm till 10 pm. Our awesome new ropes course is open during session hours. So, hope to see you there.
Q. And finally, this is a big move for The Rolladium. It demonstrates a commitment to the community–and to families and children across the metro area. Is there anything you'd like to say about that?
A. The renovation and addition is to continue a fourth generation of our family business, in addition to giving back to the community by keeping families physically active in a safe and fun environment. Also, we absolutely love the sport of skating!