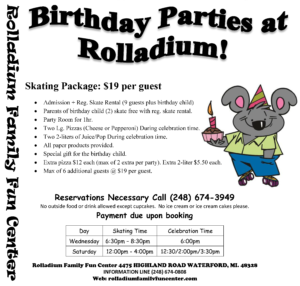 Pizza, cake, skates!
Our birthday parties are a favorite! Let us make the most of your child's special day with upbeat music, pizza, pop, and FUN!
BONUS: No cleanup for parents!
Please call us at (248) 674-3949 for party inquiries
---
Reservations necessary. To schedule your party, please call (248) 674-3949. Payment due upon booking. Birthday cakes allowed; however we ask that no ice cream or ice cream cakes are brought into the building. Also, no other outside food or drink permitted into the building.
For additional information about our birthday parties, please email our automated response email: [email protected]. Please note, this email account is automated response only; it provides information but will not be able to answer specific questions.