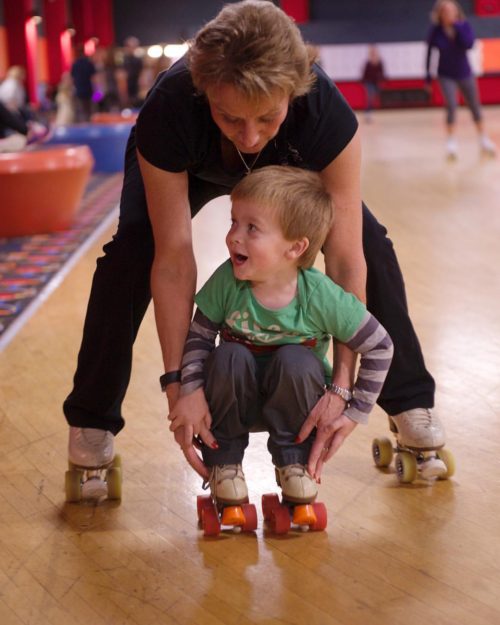 We have all heard the somewhat overused phrase: "new year, new me". It is usually regarded with a grain of salt. While resolutions can be important and exciting, why not make more of it –a New Year's routine perhaps? Rolladium Family Fun Center is not only family owned –but family oriented.
Countless customers have approached us, recalling growing up on skates, hanging out at the roller rink with friends on a Friday evening, the first time throwing on a pair of skates at a birthday party, etc. Some of the most valued conversations carried out between returning customers and management have been recollections of learning to skate at our facility and in turn, these customers have brought their children in to learn to skate. However, sessions can sometimes be a little hectic for little ones learning to skate for the very first time. For this reason, we offer Learn To Skate Classes every Saturday from 11:00am – Noon.
These classes are a fun and safe way for kids (big kids included), to learn to skate and strengthen basic skills. Each class begins with time to roll around to fun music as a warm up, and then basic skills such as falling down safely, getting up, learning to roll and stop, are reviewed. From there, we play a game as a group, and after, divide the class based on skill level ranging from beginner, intermediate, and advanced. Each division is led by a certified, knowledgeable, and friendly skating coach to ensure a positive and strong start to a student's skating skills. Participation in these classes ensures free admission to the skating session (Noon – 4pm) held directly after –talk about an awesome perk! *
Saturdays at Rolladium Family Fun Center are sure to be an incredible kick off to the weekend. When maintained consistently, roller skating burns up to 800 calories an hour! Why not start off your 2018 with a new tradition with the kids?
Classes teach old favorites like shoot-the-duck, cross overs and two foot spins. Come one, come all, for a great beginning to the new year!
*Only including skaters who participate in the class. Parents and siblings are more than welcome to join, but will have to pay admission for the session.